Please! wait for 3-5 min till the video start to load. It depends upon the internet connection.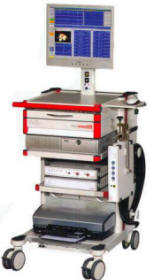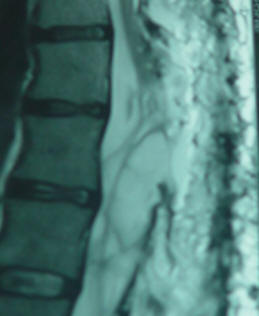 The deformed conus medullaris after this surgery
Anamnesis:
| | |
| --- | --- |
| | The patient was operated by me 08-November-2007 for recurrent teratoma behind D12 and L1 using Inomed IOM and was operated three times for that. The patient then came several times and showed improvement in several aspects. Several check MRI showed no recurrence. |
| | The patient then came 11-March-2009 complaining that his condition is deteriorating and on examination the sensory deficit was more wide spread then during 29-November-2007 with micturiton and defecation problems. |
| | MRI lumbar spine performed 16-March-2009 showing huge recurrence of the tumor at the previous location. |
| | The patient disappeared and came back 17-October-2009 with new MRI showing enlargement of the tumor and deterioration of his condition. The planterflexion of the right foot became 2/5. |
| | Refreshment of the old wound and dissection was started from above down. After identifying the spinal cord the plane between it the dura was bisected and followed down until the lower edge of the tumor mass. The posterior aspect of the spinal cord was not functioning and it was scarrous, for what it was opened about 4 cm at its medial projection over the tumor which came easily and was removed in several pieces. Water irrigation under pressure was applied to clean the cavity which actually was entirely opened from behind. Attempt to remove the inside the cavity wall confirmed that it was a functioning neural tissue, for what it was decided not to violate it so as not to cause further neurological deficit to the patient. So as to protract the period of possible next recurrence an artificial graft was used to close the dural defect to give more ample to the tumor location. The graft was water-tightly closed. |
| | Routine closure of the wound and smooth postoperative recovery. |
---
Comments
| | |
| --- | --- |
| | Epidermoid or teratomas are benign in nature but sometimes it is difficult to remove them totally and subtotal resection is the preferred solution so as to avoid damage to the functioning neural tissues. |
| | Using Inomed ISIS is the integral part to such operation, because without using this technology, the surgeon cannot evaluate what he is dissecting and what he must leave behind, respecting during that the functionally important tissues. |
| | The patient was sent to perform check MRI 07-November-2009 and he got anaphylactic shock after contrast injection (MultiHans - Bracco) after what he was resuscitated and was treated accordingly. |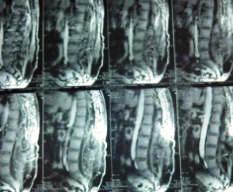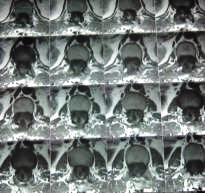 MRI performed 6 days after surgery confirming practical total removal of the lesion.
---
Comments about contrast agents used in MRI investigations.
| | |
| --- | --- |
| | The patient performed more than 10 times over the years MRI investigations using contrast media without complications. The center was using Magnovist. At this time he was given Multihans and this could cost to him his life due to rapid allergic anaphylactic shock which was treated immediately. |
| | Another known complication could have place is nephrogenic systemic fibrosis. |