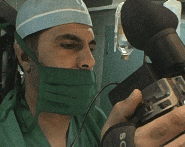 Most of the site will reflect the ongoing surgical activity of Prof. Munir Elias MD., PhD. with brief slides and weekly activity. For reference to the academic and theoretical part, you are welcome to visit neurosurgery.tv

: Part-1

The patient 36 years age got gun shot 18 months ago with subsequent paraplegia and anaesthesia below D9. There was complete absence of spinal cord function below this level, which was confirmed by ECS and EMG. He underwent recently operation for major bed sore 1 month ago and huge rotational skin flap was rotated from the right posterior aspect of the leg. He pass urine with regular voiding with condom and regular defecation without laxatives.

A detailed discussion about the kind of surgery and the pros and cons and the limitations of such procedure were explained to the patient and he was told that despite the final result, which could be achieved within 3-5 years, he may be in need for orthoses to make him able to walk. The patient agreed in these terms and he was operated.

Comments:

1. As seen in the picture the midline incision is the less traumatic approach to the postganglionic part of the roots. Dissection to go around the paraspinal muscles is not wise and cause more trauma to the soft tissues.

2. The integral part of the operation is not to cause harm to the patient. For that only functionally unimportant neural grafts must be harvested and they are at maximum 4 nerves from each leg: the sural, saphenous, anterior cutaneous branch of the femoral nerve and posterior cutaneous branch of the sciatic nerve, which is missing in this case due to previous operation for the bed sore.