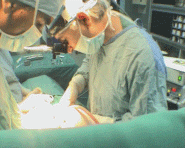 Most of the site will reflect the ongoing surgical activity of Prof. Munir Elias MD., PhD. with brief slides and weekly activity. For reference to the academic and theoretical part, you are welcome to visit neurosurgery.tv

16-MAY-2006 RAYED MUHAMED ABU-LABAN 39 YEARS HUGE RECURRENT PLD L4-5 RIGHT SIDE
The patient was operated by me 09-December-2003 for PLD L4-5 for right sciatica with drop right foot at that time. The patient came 28-September-2005 complaining of right sciatica without neurological deficit and he was sent for check MRI but he disappeared. The patient then came 09-May-2006 complaining of LBP with right sciatica for 1 week with numbness of the big toe. On examination SLRS was 60 in the right with intact motor and sensory functions. The patient was sent for MRI of the spine, which revealed a huge recurrence of L4-5 disc in the right side.

The patient was advised to undergo reoperation. Through the old incision, the upper right corner of the previous fenestration, slight drilling of the bone edges was achieved to attack the extrusion from up. The extrusion was identified and it was removed in one piece. It was the annulus fibrosis detached with hard consistency. Inspection of the disc space showed empty narrow space. The right L5 root was hanging free.

Smooth postoperative period.