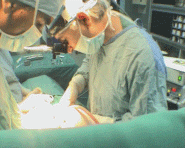 Most of the site will reflect the ongoing surgical activity of Prof. Munir Elias MD., PhD. with brief slides and weekly activity. For reference to the academic and theoretical part, you are welcome to visit neurosurgery.tv

20-MAY-2006 HANIN ALI BTAH 10 YEARS TETHERED CORD SYNDROME Part-1
The patient was operated 06-April-2002 for extremely small posterior fossa with Arnold Chiari malformation and did relatively well, until the last several months, the dyspnoea attacks increased when bending the neck and the gait started to deteriorate.

MRI of the cervico-medullary junction with cervical X-rays showed no considerable changes. MRI of the lumbar spine showed tethered cord. The patient still incontinent and difficult gait. with weak left lower limb.

The patient was operated and laminectomy of L5 S1-2 was performed. The functional spinal cord was extending down to the end of the cul-de-sac with massive arachnoidal adhesions.