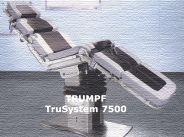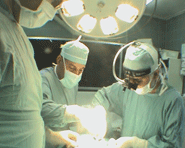 Most of the site will reflect the ongoing surgical activity of Prof. Munir Elias MD., PhD. with brief slides and weekly activity. For reference to the academic and theoretical part, you are welcome to visit neurosurgery.tv

22-02-2005 ZAYNAB MUHAMED DARWEESH 56 YEARS PLD L5-S1 WITH DOWNWARD MIGRATION

A 56 years age lady was complaining of LBP for several years . The last 8 months started to complain of right sciatica. She came with severe weak dorsi and planterflexion of all toes right foot with hypalgesia of the right S1 root and SLRS 15 degrees in the right side. MRI showed an extruded disc L5-S1 with downward migration to the right S1 root. The patient was operated and right hemiflavotomy with foraminotomy right S1 root done. The extruded disc was hard and adherent to the root, indicating that it was an old one. The extrusion was removed from many angles; from the axilla and lateral to the root. After removal of the extrusion, it was impossible to attack the disc space without removing the calcified elevated part of the annulus fibrosus, abutting the nerve. Using the Smith-Kerrison, the hole was widened to remove the elevation and perform the intradiscal cleaning. Fat transfer was performed from the most near parts. This case is a demonstration, that not always, you can attack the disc space from the point of extrusion the disc material, which was in this case below the inferior border of the annulus fibrosus and it was calcified.