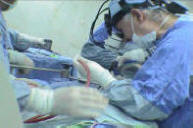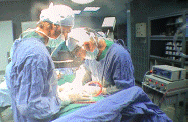 Most of the site will reflect the ongoing surgical activity of Prof. Munir Elias MD., PhD. with brief slides and weekly activity. For reference to the academic and theoretical part, you are welcome to visit neurosurgery.tv


06-SEPTEMBER-2011 NAYFA SALEH SULAYMAN 58 YEARS GIANT FALX MENINGIOMA ANTERIOR THIRD MORE TO THE LEFT MIMICKING OLFACTORY GROOVE MENINGIOMA.

Anamnesis

| | |
| --- | --- |
| | The patient was admitted to Shmaisani hospital 05-September-2011 with the treating neurosurgeon Dr. Taher Janbek with typical MRI picture of left olfactory groove meningioma with only headache and she was neurologically free. |
| | MRI brain with contrast showed giant left sided meningioma reaching the olfactory groove, mimicking olfactory groove meningioma, pushing the falx to the right side. |
| | Bifrontal craniotomy with reflection of the bony flap to the left ear. The dura of the anterior third of the superior sagittal sinus have massive bleeding, which was controlled by several means. The dura was opened parallel to the base of the skull. The tumor was seen in the left frontal area. Debulking of tumor using bipolar coagulation and piece-meal resection. It was rich with feeders and inside the meningioma, there was arterial network. The tumor had good cleavage, which was followed and the tumor turned to be falx meningioma with matrix in the anterior third of the falx. All the feeders were coagulated and sharp dissection was carried on. All the running arterial bysiders were preserved and dissected off the tumor. Total resection of the meningioma was achieved and strict heamostasis was achieved. |
| | Routine closure of the wound. Smooth postoperative recovery and the patient was sent to the ICU. |

---

Please! wait for 3-5 min till the video start to load. It depends upon the internet connection.

Comments

| | |
| --- | --- |
| | The giant tumor can mimic the origin. This falx meningioma was reaching the olfactory groove deep down that, it resembled the olfactory groove meningioma. The approach was designed for this kind of tumor. |
| | Thanks to the wide exposure, the other kind of tumor could be handled with the same approach. |




Notice: Not all operative activities can be recorded due to lack of time.
Notice: Head injuries and very urgent surgeries are also escaped from the plan .
WELCOME TO AL-SHMAISANI HOSPITAL